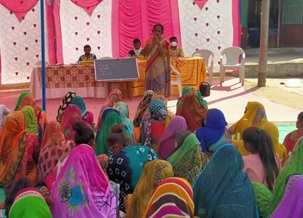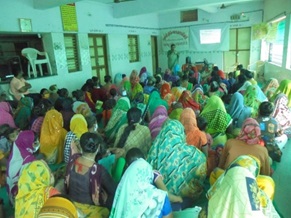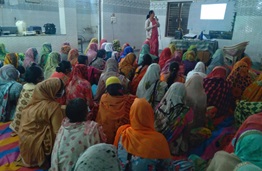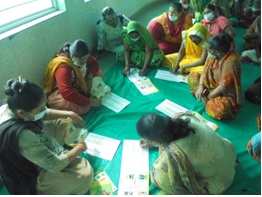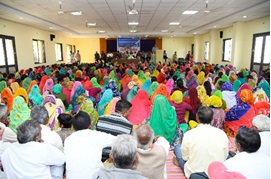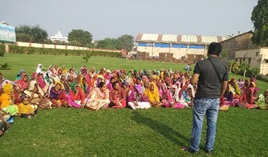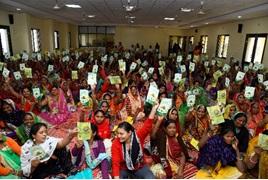 Training & Development Programme
Cooperative development should be an integral activity of any cooperative organization. Success of cooperative organization lies in vigorous attempts put in to for performing these activities. Amul has developed its strong cooperative development team and concentrate more to educate the milk producers about the core values of cooperation & their self-development. Training and Development programme of Amul is an ongoing programme. Amul organizes various training programmes based on the needs and a few of these are as follows :


VMS Workshops: VMS programme is implemented by trained consultants of the Milk union at Village Dairy Co-operative Societies (VDCS) with an aim to develop planning and budgeting skills. This programme also aims to create a documentation on Vision, Mission and Strategy of VDCS by finding the strength, weakness, opportunities, and threats for all stake holders of VDCS, to carry out short- or long-term plans. This Program also helps to identify the thrust areas of the VDCS, based on which future planning is decided. The review process helps in progress through appropriate planning.


Progressive Milk Producer-VMS (PMP-VMS) : This programme is designed to enhance milk business of the top milk producers. PMP-VMS trainers facilitate the member milk producers to identify gap between their existing & desired AH practices. Accordingly action plan is prepared. Trained consultant acts as a facilitator for the milk producers to improve their knowledge & achieve the desired goals through scientific Animal Husbandry approach and turn the dairy business profitable. Exhibits of improvement are updated on the designated website.


Dudh Utpadak Mandli Sanklit Vikas Aayojan (DIVA) : To increase the profitability of the milk producers, a three-days' program is designed to improve the animal husbandry practices followed by them through awareness on different aspects of scientific animal husbandry like Animal Breeding, Animal Nutrition, Calf Rearing, Animal Health and Record keeping.

Accordingly, find the thrust areas of milk producers by grouping them based on the herd size of 1-5 animals, 5-10 animals and 11-20 animals; by assessing them in the DIVA Diary. Based on this assessment Union and VDCS together help them through extensive AH services.


Milk Day Celebration: This programme brings transparent communication between milk producers, VDCS committee, BOD of respective block & Chairman of the milk Union. The internal union consultants act as the facilitators. The programme is based on themes related to animal welfare, quality milk production & aimed to resolve the issues pertaining to milk producers & VDCS.

Amul Darshan: This programme aims at exposing producer members to various facets of dairy operations to keep them informed and make them aware of different developments of union and their adoption to good management practices in production of quality milk. The exposure visits include visit to Cattle Feed Plant, Dairy Plant, Chocolate Plant, Dairy Demonstration Farm and presentation by the Co-operative Development Group.

This makes them feel proud of their own organization; thereby instil passion for cooperation & growth of the union.

Women Awareness Programme: Women empowerment is an inevitable part of the co-operative movement as maximum work related to milk production is done by women. WAP is one-day programme intended to point out their problems related to milk business and get them resolved instantly by direct communication with Chairman and respective Board member of the union.


Mahila Pashupalan Talim Karyakram: To provide advanced knowledge to the women who are top performers in dairy farming business; GoG, GCMMF & Amul Dairy jointly designed an inhouse training programme along with educational tour. Advanced training is provided at Anand Agriculture University, wherein, experts in different subjects related to dairy business provide advanced knowledge to these participants to excel in their dairy business.


Plantation: Tree Plantation drives combat many environmental issues like deforestation, erosion of soil, desertification in semi-arid areas, global warming and hence enhancing the beauty and balance of the environment. To emphasize this importance of plantation Amul propels a campaign to go green with the help of forest department involving all the VDCS stake holders.


Development Review: This programme aims at District Union's review of the comparative progress of five year programme of Dairy Co-operative Societies and suggests remedial measures.


Self Managing Leadership Programme: Amul undertakes Self Managing Leadership Programme for women resource persons through Brahmakumari Iswariya Vishwa Vidyalaya at Mt. Abu to bring a value based approach in development process.


Amul Patrika: It is internal bulletin printed on monthly basis to share our milk union's activities, sharing of success stories, articles on scientific and profitable animal husbandry practices and distributed to member milk producers through VDCS.