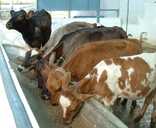 Dairy Demonstration Farm
As part of Amul's continuous effort to improve the socio-economic conditions and livelihood of dairy farmers, Amul has come out with various schemes to increase cattle holding per farmer thereby their income.

A Dairy Demonstration Farm (DDF) has been set up at Mogar to demonstrate scientific methods of dairy farming. The project envisages encouraging the farmers to use high yielding animals and modern aids to increase milk production.

The Union provides technical support to milk producers on Scientific Animal Husbandry practices and also facilitates loan disbursement from banks to the needy by guaranteeing the loan repayment on behalf of farmers. The Dairy Demonstration Farm is generating overwhelming interest in milk producer members because of its success and viability.

So far, under various schemes, thousands of farmers are covered to increase the cattle holding size from small to medium size.