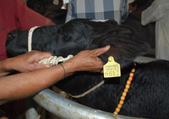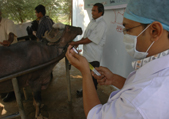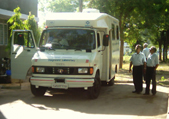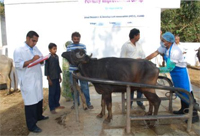 Animal Health care
Animal Husbandry activity is one of the programmes envisaged by Amul for enhancement of milk production and to take care of farmers that they do not incur economic loss by want of health care service to their cattle holdings. In the beginning itself it was felt that cattle's health is wealth of farmer as well as of the dairy as it brings growth to farmers and the organization.

The first Mobile Veterinary Dispensary was flagged off by Late Dr Rajendra Prasad, then the President of India way back in 1950. Since then Amul has come a long way in the management of animal husbandry introducing the best management practices and the services are provided 24 hours today. Experiencing the best medical service to their cattle, a women in a village of Anand made a remark that it is better to take birth here as buffalo rather than human as they are looked after better than them – human.

In order to provide 24 hrs services, Amul has today fourteen veterinary-sub-centers with the Head Office at Anand and supported by more than 120 veterinary mobile vans with the best communication system. This programme is well taken care by a dedicated team of 125 veterinarians.

Amul has further established mobile and static animal disease diagnostic laboratories at Balasinor equipped with sophisticated equipments and professionals to assist the veterinary services for specific treatment of the ailing animals. The objective of these facilities is to maximize milk production by ensuring sustainable sound reproductive and overall health of milch animals of our milk producers by accurate diagnosis of different diseases of livestock through doorstep and static diagnostic facilities.

Some of the activities covered under this programme are: Minimize digestive, metabolic, and infectious diseases; Reduce calf mortality; Immunization programme to avert outbreak of diseases; Educate the member producers' about animal welfare, hygiene, nutrition, management aspects and clean milk production; Distribution of Saaf Kit pray and Mas-strip to milk producers to make use of teat spray post milking as daily practice; Sexual health control; Dry cow therapy; Introduction of milking machine; Impart training for First Aid and Artificial Insemination; Emergency visit; Animal nutrition and awareness programme etc.

The dedicated service of Amul to the live stock of farmers have made its milk procurement area almost free from diseases thereby helped greatly in augmenting milk production and better return to farmers reducing their dependency on the seasonal crops for the livelihood. The effort put by Amul to take care of the cattle stock has helped farmer producers to look after their cows and buffaloes as a part of family members.