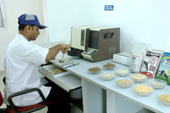 Animal Nutrition
In the beginning, to take care of the nutritional requirement of cows and buffaloes owned by the milk producers Amul procured and distributed cotton seeds. The Cattle Feed Plant of Amul was set up with the assistance of OXFARM under the Freedom from Hunger campaign of Food and Agriculture Organization to produce 50MT of balanced cattle feed. This plant was inaugurated by late Shri Lal Bahadur Shastri, then the Prime Minister of India and dedicated to the farmers on 31st October 1964.

The plant has since then grown in size to become Asia's largest cattle feed plant producing more 1100MT of feed daily. Amul has plan to further expand its capacity in the coming years. Supply of regular balanced cattle feed has significantly helped farmers to over come economic losses due to health problems, reduced reproductive efficiency, infertility etc. The plant today manufactures following products: Amuldan (Bypass Protein Feed), Calf Starter, Milk Replaced, Mineral Mixer, Medicated Feed, Urea Mineral Molasses Block.

In order that the feeds supplied to the farmers are cost effective raw materials are procured during seasons from all over India. The following material form part of various feed manufactured by the plant: Cotton seed extraction, Groundnut extraction, Sunflower extraction, Rapeseed extraction, Maize gluten, Maize oil cake, Goar bhardo, Cotton seed oil cake, Mango seed extraction, Palm kernel extraction, De-oiled rice bran, Rice polish fire, Rice, Jowar, Salt Dicolciom phosphate (D.C.P.), Vitamin AD3, Calcite powder Trace mineral, Molasses etc.

In addition to above programme Amul procure and distribute quality fodder seeds like, Lucerne, Jowar, Maize etc to fulfill the requirement of roughages of the ruminants. For better utilization of fodder, Amul supplies chaff cutters (Suda) to farmers.

As feed constitute 70 per cent of the cost of milk, reducing the cost of feed while ensuring its nutritive value contributes significantly in improving income of milk producers. Animal nutrition programme Amul has helped a long way the dairy farmers sustaining their dairy farming.