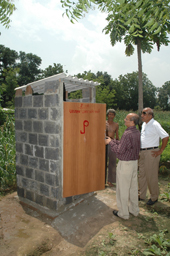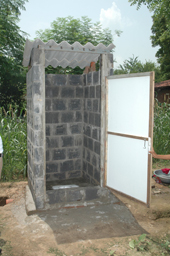 Rural Sanitation Campaign
Amul Dairy has launched a novel scheme for total rural sanitation and set a target for itself whereby not a single milk producer will attend to nature's call in the open. The Dairy with the support of District Rural Development Agency (DRDA) will provide interest free loans to its milk producers in Anand and Kheda districts to set up 'pucca' toilet blocks, which will not only help women milk producers avoid embarrassment but will also ensure hygiene.

'In five years' time, dairy wishes to achieve the target of providing 100 per cent toilet facilities in all villages where Amul has a milk society.

The mission is not just about bringing a cultural change by imbibing good habits among milk producers but also targeted towards encouraging hygienic practices in the milk supply chain.

Amul has prepared a model low-cost toilet block that costs Rs.11,500 per unit. While DRDA will support this initiative through subsidy ranging between Rs.4500 and Rs.4600 for BPL/APL families, Amul will provide its members an interest free loan worth Rs.4300 returnable in four years' time. A member can pay up this loan by getting Rs.100 per month deducted from his/her bill.
Download PDF
Click for More details