Tribhuvandas K Patel 1903-1994
Founder Chairman of Kaira District Co-operative Milk Producers' Union Ltd., Anand
Shri Tribhuvandas K Patel was born on 22nd October 1903 in Anand, Kheda District, Gujarat, India. He was born to a farmer Shri Keshibhai Patel and Smt Lakhibha. Shri Keshibhai had three sons namely Shri Bhagawandas Patel, Shri Chimmanbhai Patel and Shri Tribhuvandas Keshibhai Patel. He had his schooling in Nanaadhni Dharmasala, Anand Primary School and the rest of the schooling was done in New English School - at present this school is known as DN High School of Charotar Education Society.
He joined Gujarat Vidyapith, Ahmedabad for his degree. During this period he entered in the freedom movement of the country along with Mahatma Gandhi.1918 he was married to Smt Maniben Mothibhai Patel of Shri Mothibhai Patel of Thamana village in Anand. Tribhuvandas had six children. He was very much influenced by the philosophy and principles of Mahatma Gandhi.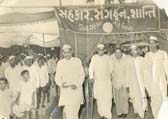 He was totally involved in the various movement of Mahatma Gandhi like civil disobedience, rural development and drive against untouchability, Alcoholism etc. He was the President of Harijan Sevak Samiti from 1948 to 1983. In Nasik in 1930 he was jailed for the first time for the salt satyagraha. He was further imprisoned in Visapur 1930 wherefrom he took oath to dedicate his life for the benefit of the masses at large.
Shri Tribhuvandas Patel successfully led farmers against the unfair trade practices of traders of Polson and Polson Dairy and established Kaira District Co-operative Milk Producers' Union Limited on 14th December 1946 which is today known as "Amul".

Honesty of purpose and sincerity of his efforts at social service earned him respect of the masses. Tribhuvandas Patel developed the institution which Sardar had made him responsible for. The basic approach adopted by Shri Tribhuvandas Patel was first to establish milk co-operatives in the villages. These co-operatives were literally the "base" of the entire venture.
He insisted that each village co-operative should be open to all milk producers in the village regardless of caste, creed or community. He placed equal emphasis on the principle of 'one man one vote' regardless of each member's social and economic status. He never looked back since then and gave the dairy cooperative movement world recognition with the assistance of Dr. Verghese Kurien, better known as "Father of White Revolution" in India.
During his life time he held various positions and received innumerable recognitions and awards for his outstanding leadership and social service. Some of these awards are Ramon Magsaysay Award from Philippines 1963 a recognition towards his Community Leadership, Padma Bhushan from Government of India 1964 towards Social Service.